The V.I.P card
With the V.I.P card, get into the world of Bach flower essences by Elixirs & Co for a whole year!
Because we've heard you and because our approach is to better serve you, this year 2017 is the launch of the V.I.P card.
A paying card that allows you to access extraordinary advantages and enjoy Bach flowers easily.
More than a loyalty program, you benefit from real privileges throughout your subscription year.
Thanks to the V.I.P card, we give you access to exclusive benefits!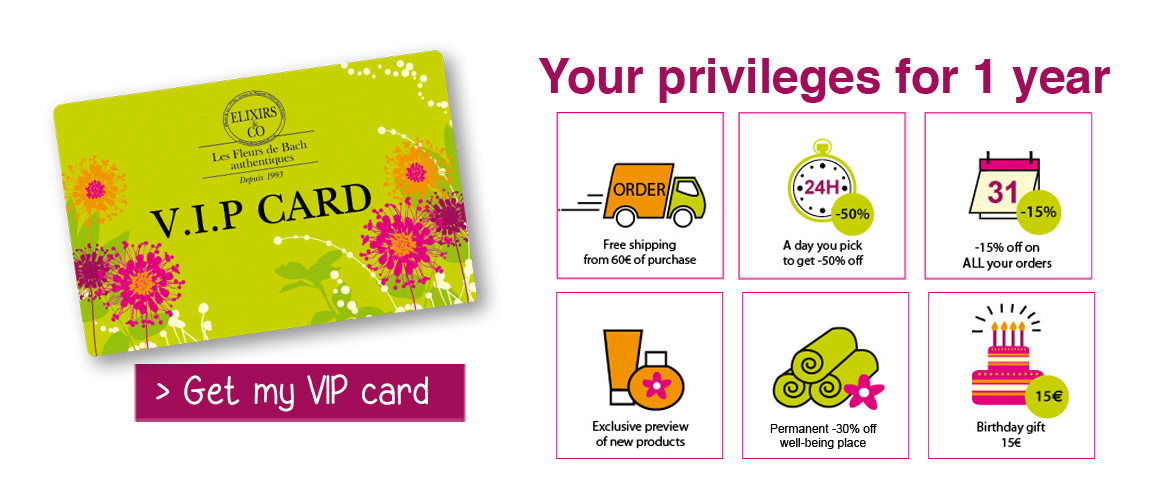 - Your shipping costs 3 € and are free from 60 € instead of 150 €. Only available in Metropolitan France.
- A PERMANENT 15% discount on all your purchases and this, throughout the year!
- A day privilege of your choice in the year. Pick your day and get 50% off
- A birthday gift according to your V.I.P status valid on every items on the website.
It can be used during the 30 days following your birthday.
- Exclusivity of new products ! You have the first place and discover before anyone else the new products, be invited to attend to Bach flowers workshops...
- Access V.I.P to the well-being place in our boutique des Batignolles in Paris.
Book your session Thera'Chi at 01 40 54 67 92 and enjoy Shiatsu bed, floating bed, a foot reflexology and therapy ...
This digital card is valid for 1 year (365 days) after your order,
It is only valid for a single user and can not be used by a third party.